Just a few odds and ends today.
Free Genealogy Tools
has achieved Greatness! At least, that's the opinion of the well-respected genealogy experts at OneGreatFamily.com.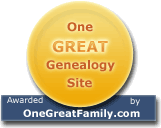 That's a very nice pat on the head for a new blog like us. Thanks guys.
Farquier County, VA
has a surprisingly-large online index of biographical information that appeared in the Fauquier Democrat/Times-Democrat newspaper during the period 1905-1999. There look to be almost 100,000 names included here, each with a snippet of information on a birth, marriage, or death (some heartbreaking, like:
Age 16; drowned at Daniel's Dam Millpond
). Staff at the Fauquier County Public Library will photocopy articles of interest, for a small fee. A good, fast resource for this part of Virginia.
Another surprisingly large collection can be found at
Genealogy Images of History
, aka the Tom Russell Collection. This site sells images of newspaper pages, flyers, etc. and has quite a large list of names, easily searched. You can preview the images at no cost.
That's it for now. See you next time.
Visit the main page of
Free Genealogical Tools
for more, umm, free genealogical tools.
And don't forget to also check for your family history at
Ancestry.com
and
NewspaperArchive.com
.These are subscription databases, but they are among the most powerful research tools available for looking into family roots.